Long live the King of Pop! Even though we lost Michael Jackson, his talent still remains to be enjoyed the world. Combining his music and choreography with Cirque du Soleil creativity, fans are now able to experience MJ unlike ever before with Michael Jackson THE IMMORTAL World Tour. Proving just how popular this show is, American Airlines Center is happy to announce that an additional performance has been added due to strong ticket demand! Dallas fans can now choose between the June 26 and June 27 show dates to see this once-in-a-lifetime production.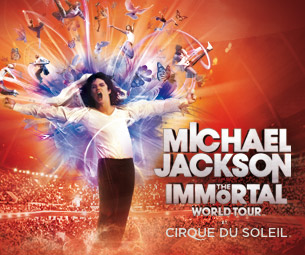 Michael Jackson THE IMMORTAL World Tour brings audiences into a fantasy world, a world Michael undoubtedly preferred. We could never begin to image the limitless opportunities within his creativity, but this show attempts the impossible. Audiences get to see Michael's inner world of fantasy and magic in a show that promotes his global messages of love, peace and unity.
Of course the show would be little without the breathtaking and ahh-inspiring acrobatics of Cirque du Soleil. If you have never been to a Cirque du Soleil show, get off your chair/couch/bed/floor/etc. and GO. These acrobats have talent that is unimaginable. They will leave you captivated from beginning to middle to end (and feeling very nonflexible, we might add).
The man behind Michael Jackson THE IMMORTAL World Tour, writer and director Jamie King, has been called the "Jerry Bruckheimer of tent-pole concert tours" by Variety. Though this may be King's debut Cirque du Soleil show, it is certainly not his first rodeo with concert tours. His client list boasts of stars ranging from Madonna to Spice Girls to Celine Dion.
This show dazzles both lifelong fans and those experiencing Jackson's artistry for the first time. And by the looks of the promo video below, the show does not promise to disappoint. So take advantage of the second added show and make plans to spend a summer night reliving the magic Michael Jackson brought to us for so many years. Tickets are now available through Ticketmaster with prices ranging from $50 to $250.